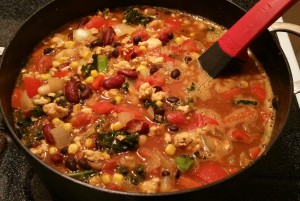 This taco soup is hardy, healthy, simple, inexpensive, and
oh-so-yummy.
A one-cup serving of this recipe has only 186 calories, 25 carbs and 3.5 grams of fat.  It also provides a whopping 61 grams of protein and 6 grams of fiber.  I top it with 1 tablespoon of sour cream which adds only 30 calories and 3 grams of fat — so worth it!  AND it only cost $1.29 per serving!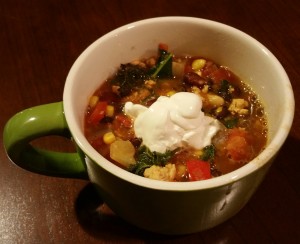 It is based on an old Weight Watchers recipe, but I've added a few things to make it even healthier:  kale, tumeric and
cardamom.  Among the many benefits, kale adds fiber and antioxidents, tumeric is anti-inflammatory and aids with healing and
alleviating arthritis, and cardamom aids digestion, immune system and blood pressure.  In this recipe, I used two cups of kale, which seemed about right to me.  I used 1 teaspoon each of turmeric and cardamom with no noticeable taste, so I would increase those next time to get more of the health benefits.
The sodium content is higher than I like at 815 grams per one-cup serving because of all the canned ingredients and the packaged
seasonings.  You could reduce the sodium level dramatically by cooking the beans yourself rather than using canned beans and by using your own seasonings instead of the packaged ones.  Since my emphasis is on simplicity, though, I'll just buy low sodium versions of the canned ingredients next time.
So here's the recipe as I prepared it:
Ingredients:
2 T olive oil
1 onion, chopped
1 red pepper, chopped
1 lb. lean ground turkey
2 c kale, de-stemmed and chopped
1 pkg. taco seasoning
1 pkg. ranch dressing mix
1 tsp turmeric
1 tsp cardamom
15oz can black beans
15oz can kidney beans
15oz can cannellini beans
15oz can corn
28oz can diced tomatoes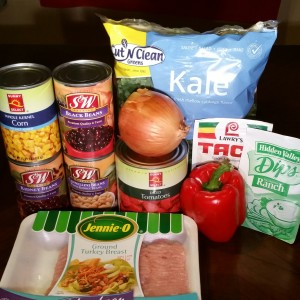 Rinse and drain beans.

2.  Sauté the onion in olive oil over medium heat for just a few minutes, until it begins to become translucent.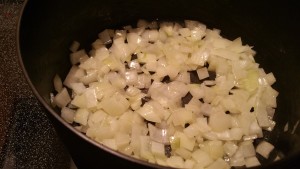 3.  Add ground turkey and cook until browned.
4.  Add seasonings and mix well with the turkey.
5.  Add red pepper and tomatoes.
6.  Add the kale and mix in until it begins to wilt.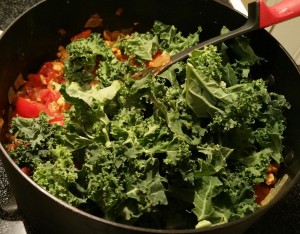 7.  Add all the rest of the ingredients and combine well.
8.  Add a cup or two of water to desired consistency.
9.  Turn up the heat until the soup comes to a boil then cover and
reduce heat to simmer for 20 minutes.
Enjoy guilt-free yumminess.  And please share your ideas for making it even better.
To Print Recipe:  Love Yourself Taco Soup