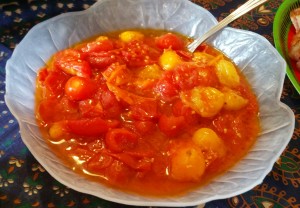 Saffron Tomato Confit is a luscious way to use tomatoes that
perhaps aren't as pretty as they once were.  It brings out their flavor intensely and can be served on toast, over meats, or as a sauce for pasta.  Best of all, it's extremely simple to make.
Ingredients:
1 pound cherry tomatoes
½ cup olive oil
1 pinch saffron (about 20 threads)
Salt and pepper to taste
Instructions:
Sauté tomatoes in olive oil over medium-high heat.  Add saffron, salt and pepper.
When the tomatoes start to blister, reduce heat to medium-low and simmer for one hour, stirring every ten minutes or so.
Remove pan from heat and let cool for about 20 minutes before serving.
This is delicious served warm, room temperature or chilled and can be stored in an airtight container in the refrigerator for up to one week.
A Note About Saffron:  Saffron is a very expensive spice because
1) it's fabulous and 2) it is an extremely labor-intensive crop.  The great news is that a little goes a long way.  You can learn more about it at http://www.courierpress.com/features/saffron-is-expensive-but-its-taste-is-worth-the-price-ep-443079344-324670731.html.