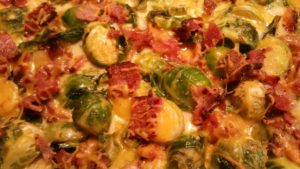 Here's great way to introduce people to Brussels sprouts:  roast and smother them in bacon and melted cheese —
the sprouts, not the people, that is.
This recipe came from 12Tomatoes.com — one of my favorite recipe sites.  Check it out for lots of yummy dishes.  Here's how I made it:
Ingredients
1½ pounds Brussels sprouts, halved
8 oz bacon, cooked and crumbled
1 cup cheddar cheese, grated
½ cup fontina cheese, grated
¾ cup heavy cream
2 tablespoons olive oil
1 egg
1 sprig fresh rosemary, minced (I'll use a little less next time)
1 teaspoon garlic powder
1 teaspoon onion powder
½ teaspoon red pepper flakes
Salt and pepper to taste
Makes 6 servings (or 3 if you're like me!)
Directions
1. Toss Brussels sprouts in olive oil, season with salt and pepper and place in a large baking dish.  Roast at 400˚ for 15 to 20 minutes.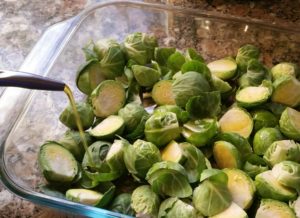 2. Whisk together the egg, cream, rosemary, garlic powder, onion powder and red pepper flakes.  Stir in cheese.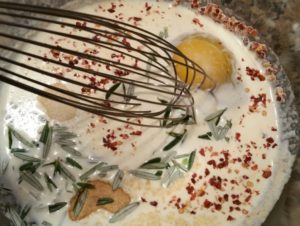 3. Add a little more than half of the bacon to the sprouts and cover with the creamy cheese mixture.  Stir to combine.
4. Top with remaining bacon and maybe a bit more cheese.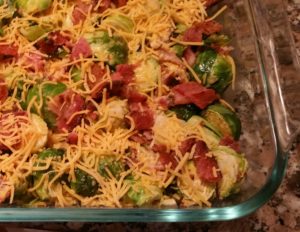 5. Bake at 350˚ for 20 to 25 minutes until cheese is bubbly.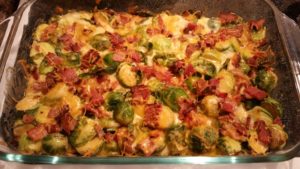 Let cool 5 minutes before serving.