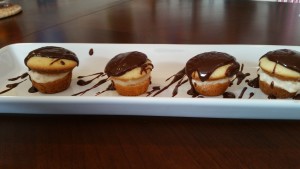 Such a simple, yummy and impressive dessert!  This recipe is from BettyCrocker.com.
Ingredients:
1 box Betty Crocker SuperMoist French vanilla cake mix
1 cup water
1/3 cup butter, softened (I substituted coconut oil)
3 eggs
1 cup vanilla pudding
1 cup semisweet chocolate chips
3/4 cup whipping cream
Directions:
1.  Preheat oven to 350 degrees.  Grease and flour 48 mini muffin cups.
2.  Combine cake mix, water, butter (or coconut oil) and eggs and mix until smooth.  Spoon batter into muffin cups — do not overfill, just below rim.
3.  Bake 8 to 10 minutes or until they spring back when touched lightly.
4.  Once they are completely cool, slice off the top of each cupcake.
5.  Spoon 1 teaspoon pudding onto the bottom half of each cupcake.  Cover with top half.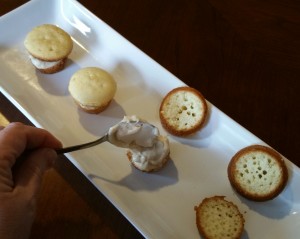 6.  Melt chocolate chips and whipping cream together (60 seconds in microwave or use a double boiler on stovetop).  Stir until smooth.
7.  Spoon chocolate mixture on top of each cupcake.
Store in refrigerator up to three days.  Prepare for lots of OOs and AHs.