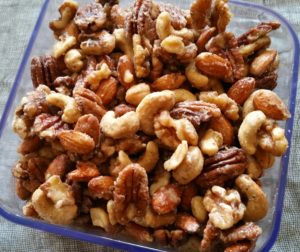 These Sweet-n-Spicy Nuts are easy to make ahead and add a nice touch to any table.  They also make simple holiday or hostess gifts.
You can use any nuts that you like — I chose a combination of
cashews, pecans, almonds and walnuts.  Store them in an airtight container on the shelf for a week, in the frig for a month, or in the freezer for six months.
Ingredients:
Cooking spray
4 cups of raw nuts
1 teaspoon salt
1/2 teaspoon black pepper
1/4 teaspoon ground cumin
1/4 teaspoon cayenne pepper
1/2 cup white sugar
1/4 cup water
1 tablespoon butter
Directions:
Line a baking sheet with foil and spray lightly with cooking spray.  Preheat oven to 350 degrees.
Heat sugar, water and butter in a small saucepan over medium heat, stirring until butter is melted and sugar is dissolved.
Stir in spices and slowly pour over the nuts.  Stir until the nuts are well coated.
Spread the nuts into a single layer on the baking sheet, and bake for 10 minutes.  Stir nuts and spread out again into a single layer.  Bake another 10 minutes and let cool before serving.
Enjoy!