"Life is too short
not to order the
bacon dessert."
– George Takei
You'll never go wrong serving bacon at a brunch, but this appetizer is my absolute favorite bacon recipe.  It's the perfect blend of
savory/sweet, crispy/chewy and creamy/crunchy with bacon, cream cheese, almonds and dates in every bite.
You'll save time by getting pitted dates ("pitted" means the pits have already been removed), but in case they aren't available, no worries.  It's actually quite simple to remove the pits.  Start by removing the hard, round tip if still attached.  Slice the date from end to end and open it carefully.  Discard the pit.
    
Preheat oven to 400 degrees F.
Coat baking dish with cooking spray.
Spread a dollop of cream cheese inside the date.

Put an almond in the center and close the date around it.

Bake until bacon is crisp, about 10 to 15 minutes.
Drain on a paper towel or parchment paper and then transfer to serving platter.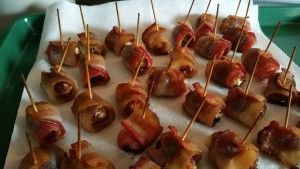 Enjoy this along with many of the easy brunch recipes to come.
Printable version: Bacon-Wrapped Stuffed Dates