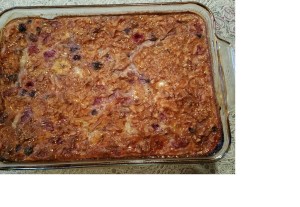 This is an amazing recipe for baked oatmeal.  Not only is it easy and delicious, but it is incredibly healthy (just don't tell your family that part) with quinoa, steel cut oats, bananas, blueberries, raspberries and even protein powder.
Of course, we think of oatmeal as a breakfast food, but this recipe is so yummy you can top it with a scoop of vanilla ice cream for a very tasty dessert.  For my brunch I served it with Slow Cooker Applesauce, Greek yogurt, nuts and pomegranate seeds.
There are twelve ingredients, but please don't let that dissuade you.  It's still quite simple to prepare.  And this recipe makes 18 servings (or cut in half and use a smaller baking dish).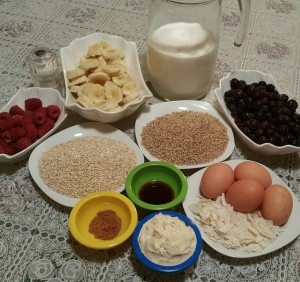 1.  Rinse the quinoa and steel cut oats (1 cup each) until the water runs clear.  Drain well.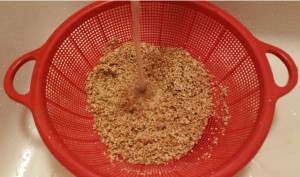 TIP:  Use the right tool for the job.  I grabbed my go-to colander (the green one) but the holes were too big and the first splash of water sent quinoa and oats racing down the drain.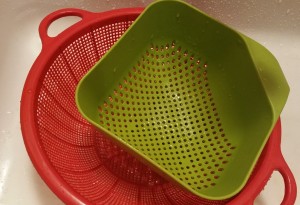 2.  Prepare the fruit:  3 or 4 bananas, sliced; 2 cups blueberries (fresh or frozen); and 1 cup raspberries (frozen might be fine, but I prefer fresh ones because they are plumper and hold their shape better.)
3.  Layer half the fruit in a large baking dish prepared with cooking spray.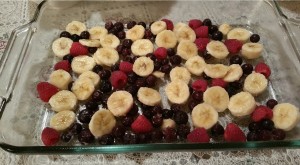 4. Cover with the quinoa and oats.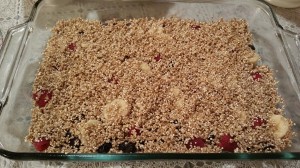 5.  Layer the remaining fruit.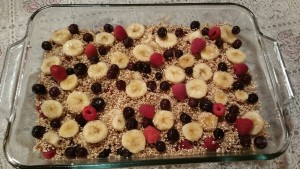 6.  In a large mixing bowl, whisk together 4 cups of your favorite milk (dairy, almond, soy, etc.), 4 eggs, 2 scoops of your favorite protein powder, 2 teaspoons vanilla, 1 teaspoon cinnamon, and a dash of salt.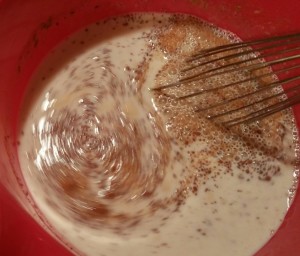 7.   Pour the liquid over the fruit and grain.
TIP:  To prevent the fruit from floating or migrating unevenly, pour the liquid very slowly from one corner of the dish.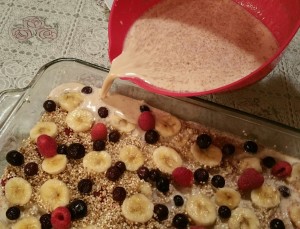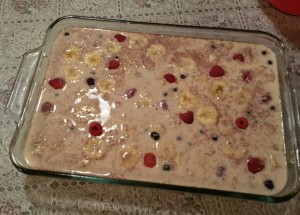 8.  Sprinkle half a cup of coconut flakes over the top.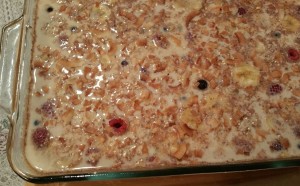 TIP:  If you like, toast the coconut first in a 375 degree oven,
but watch it very carefully.  The first minute looks like no change is happening and suddenly it turns brown very quickly.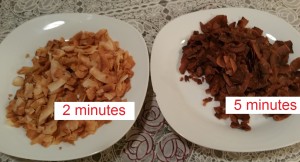 9.  Bake at 375 degrees until nicely browned and dry on top, about an hour to an hour and fifteen minutes.
10.  Let sit for one hour before serving — that's the only hard part because it smells sooooo good!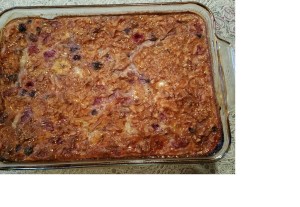 Enjoy!
IMPORTANT NOTE:  While quinoa is very healthy for us, many people have not embraced the texture.  If you and your family or guests are not quinoa fans, you may be happier preparing this recipe with just oatmeal and no quinoa.
Enjoy this along with many of the easy brunch recipes to come.
Print recipe:  Baked Oatmeal Recipe