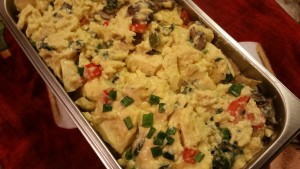 Light, fluffy scrambled eggs to serve 12 people.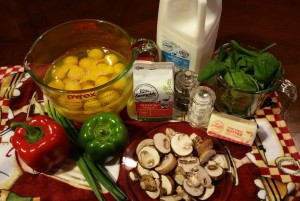 INGREDIENTS:
½ cup butter, melted
24 large eggs
1 ¼ cup Half-n-Half
1 ¼ cup milk
Salt and pepper, to taste
¼ cup olive oil
Fresh veggies, chopped (suggested: mushrooms,
red and green bell peppers, spinach, onion)
3 green onions, chopped
¼ cup shredded Parmesan cheese
DIRECTIONS:
1.   Pour melted butter into 9″x13″ baking dish.
2.  Whisk together the eggs, Half-n-Half, milk and salt.
3.  Pour eggs into baking dish.
4.  Put eggs into 350 degree oven, and stir every 5 to 10 minutes
until beginning to set.
5.  While eggs are baking, sauté veggies in olive oil until lightly browned.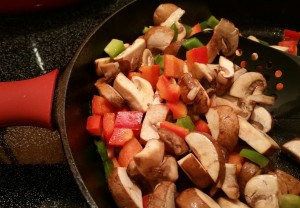 6.  If using spinach, add it to sautéed veggies to let it wilt for just a minute.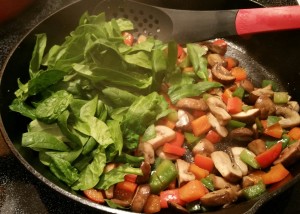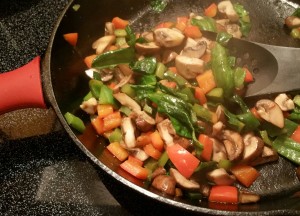 7.  Add vegetables to eggs and bake another 8 to 10 minutes.
8.  Once eggs are set nicely but still moist, stir again and top with green onions and cheese.
9.  Bake 2 to 3 minutes longer and serve immediately.