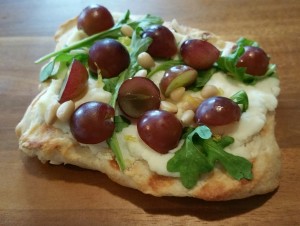 Here's a truly unique and delicious pizza, and it's so quick and simple to make.  It was featured in Dinner at Tiffini's and People magazine.
Ingredients: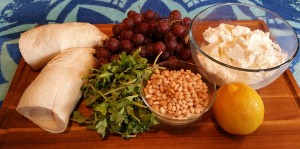 8 oz refrigerated pizza dough, halved
1 cup ricotta cheese
2 cups arugula
1 cup red grapes, sliced in half
1/4 cup pine nuts
Zest of one lemon
1.  Heat a grill pan over medium-high heat and preheat oven to 400.
2.  Flatten and stretch each half of dough into 12″ oblong or rectangle. Lay one dough into bottom of hot grill pan and cook until it stiffens, 1 to 2 minutes, flip and cook 1 to 2 minutes more.  Repeat with remaining dough.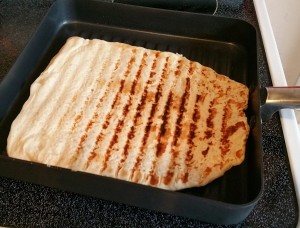 3.  Transfer crusts to a baking sheet and spread ricotta on top.  Bake until ricotta melts slightly, about 6 minutes.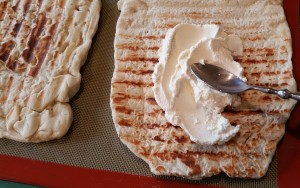 4.  Remove from oven and top with arugula, grapes, pine nuts and lemon zest.   Cut into squares and serve warm.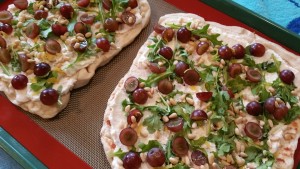 Confession: The first time I made this, I didn't read the directions carefully and put the toppings on before baking the crust instead of after. The second batch was made following the instructions. Turns out I liked it better with the toppings cooked, especially the pine nuts, but it is good either way.
Print-friendly recipe:  Pizza with Arugula, Ricotta and Red Grapes
Enjoy this and many more easy brunch recipes to come.