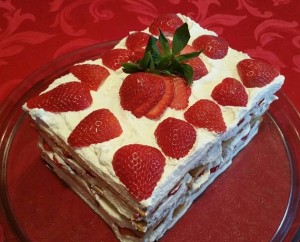 Icebox cakes are made from a variety of cookies and cream that, when refrigerated, meld into a cake-like texture. This cake is simply layers of graham crackers, whipped cream and strawberries.  A
drizzle of melted chocolate can increase the wow factor.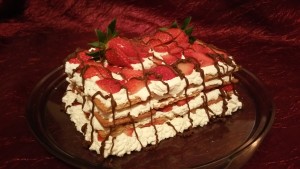 The amount of ingredients depends on how tall you choose to build this dessert.  For a 9″x13″ cake pan, you'll want to use 3 cups of whipping cream and 2 sleeves of graham crackers.  When stacking it 5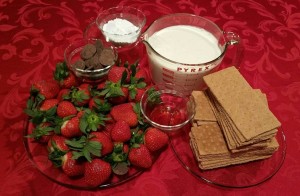 or 6 layers high, it takes about 4 cups whipping cream and 3 sleeves graham crackers.  A basket of strawberries is probably enough for the cake pan, but I used most of a double basket to build my tall cake.  The only other ingredients are a little powdered sugar and vanilla to make the cream sweet and some chocolate to melt and drizzle if you like.
The simplest way to core a strawberry while maintaining it's shape is to insert a plastic straw from the point of the strawberry to the stem.  Then grasp the stem and pull to remove the core from the straw.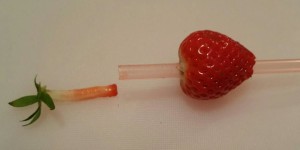 As you're slicing the strawberries, select a couple of the prettiest ones to use as a garnish and save some bright end slices for the top layer.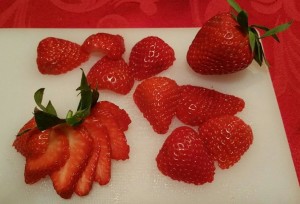 Using an electric mixer on high speed, whip 3 or 4 cups of heavy whipping cream until stiff peaks form (keeps it's shape).  Then add one-third to one-half cup powdered sugar and 1 teaspoon or so of vanilla and whip until combined.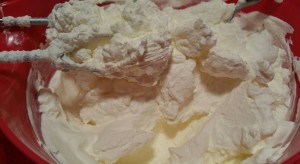 Spread a small layer of whipped cream on the tray or bottom of pan to keep the graham crackers from sliding.  Then alternate layers of graham crackers, whipped cream and strawberries until they are as high as you like.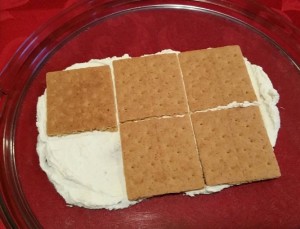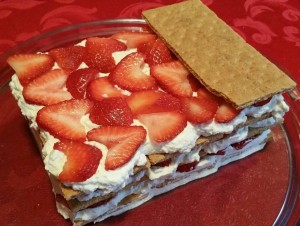 There are many ways to melt chocolate for drizzling, but by far the simplest way I know is using Candy Melts and disposable icing bags from Wilton (Amazon link at bottom of this page).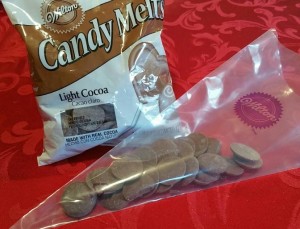 Just put as many or few disks as you like in an icing bag, microwave it 15 seconds at a time and massage the bag with your fingers until the chocolate is melted and smooth.  Then snip a tiny opening at the tip with a pair of scissors and squeeze the bag as you wave it back and forth above the cake.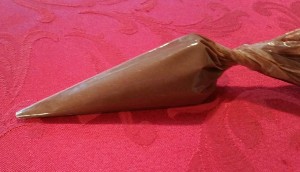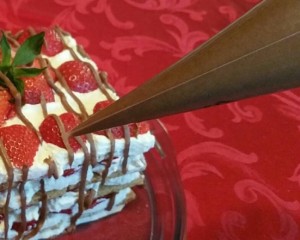 Refrigerate at least eight hours and prepare yourself for the oohs and ahs you'll get from your guests.
TIP:  This cake is extremely hard to slice neatly the first day (but still yummy).  If you make it two days ahead and keep in the fridge, it will be much more cake-like and easier to slice.
Enjoy this along with many of the easy brunch recipes to come.
Printable recipe:  Strawberry Icebox Cake