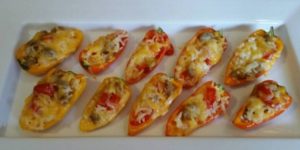 For a yummy Southwestern appetizer, just make your favorite recipe for stuffed peppers and use mini sweet bell peppers instead of large ones.  Here's the recipe I used:
Ingredients:
12 to 14 mini sweet bell peppers
1 cup white rice, cooked
1/2 lb ground sausage (or ground beef)
1 medium onion, chopped
1 clove garlic, minced
10 cherry tomatoes, finely diced
8 oz shredded cheese (cheddar or Mexican blend)
 Slice peppers in half lengthwise, remove seeds and inner spines, rinse, dry and lay in 9″x13″ baking dish.

2.  Saute sausage, onion and garlic until browned.
3.  Add rice and tomatoes to the sausage mixture and stir well.
4.  Stuff each pepper half and return to pan.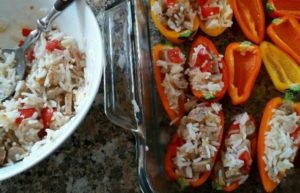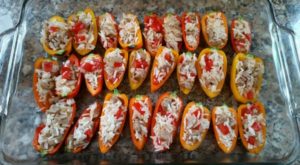 4.  Cover with foil and bake at 400 degrees for 20 minutes.  Remove foil, top with shredded cheese and bake an additional 5 minutes, until cheese is melted.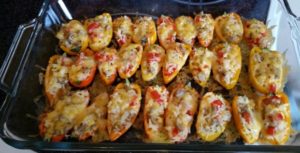 To prep ahead:  Slice and clean the peppers and store in zipped bag in frig up to two days ahead.  Make the stuffing mixture the day ahead and store in the frig.