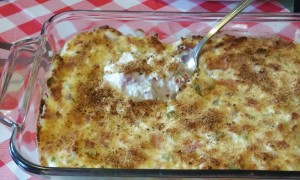 Bacon is always a hit, but this Hot Bacon Crab Dip vanished quickly.  Everyone raved about it.  It would probably taste just as yummy cold, but I doubt it will ever last long enough for me to find out.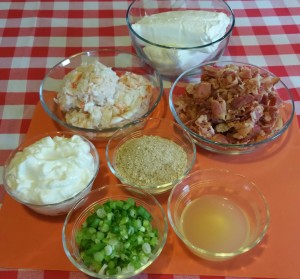 Ingredients:
8 oz cream cheese
8 oz crab meat
1 cup crumbled cooked bacon
1/2 cup mayonnaise
3 green onions, chopped
Juice of one lemon, about 3 T
Breadcrumbs
Combine first 6 ingredients.  Spread in baking dish.  Sprinkle breadcrumbs over the top.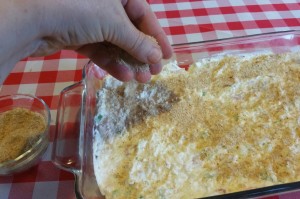 Bake at 350 degrees for about 30 minutes.  Serve hot.
I doubled the recipe so it filled a 9×12 baking dish.
Print recipe:  Hot Bacon Crab Dip