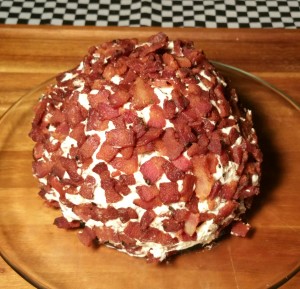 A simple cheese ball with the added yum of bacon.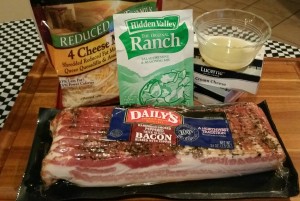 Ingredients:
Two 8oz bars of cream cheese, softened
1/2 cup shredded cheese (I use the Mexican cheese blend)
1 tablespoon lemon juice
1 cup crisp cooked bacon, crumbled
1 pkg. Hidden Valley Ranch
Mix in a large mixing bowl, beat the cream cheese until soft and creamy.  Add the lemon juice, shredded cheese, Ranch mix and half of the bacon and mix thoroughly.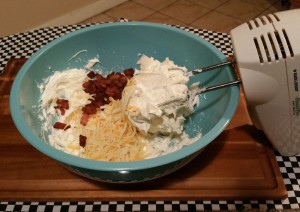 Form the mixture into a ball and roll it in the remaining bacon pieces.  This part is REALLY messy, and my only suggestion is that, if you are taking pictures of the process, you should have someone else available to hold the camera.  I did not and so had to keep stopping to wash my hands off, dry them, take the next picture and start again, only to have my hands completely covered in sticky cheese a moment later.
Actually, if you don't like to get messy, you could simply put the dip in a shallow serving dish and just put the bacon pieces on top.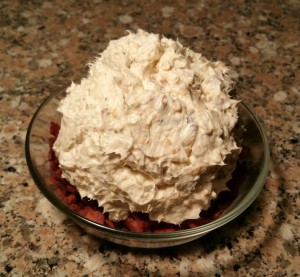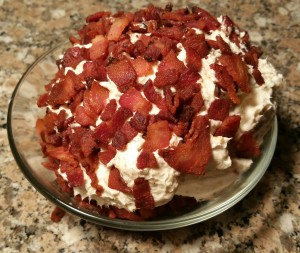 This can be made up to three days ahead, just cover and refrigerate.  Serve with crackers, pretzels or crudités.