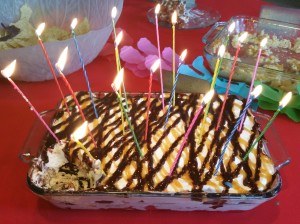 This cake is so creamy and sweet and pretty and, best of all, simple to make!  It literally took only 15 minutes to put it together.  It needs to sit in the fridge a few hours or overnight, but what a hit it was at the brunch!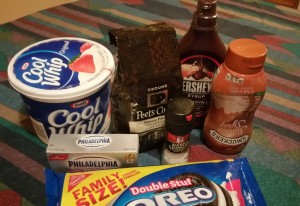 First make some coffee, pour it in a bowl to cool.  Then dip Oreo cookies in the coffee and layer them in the bottom of a baking dish.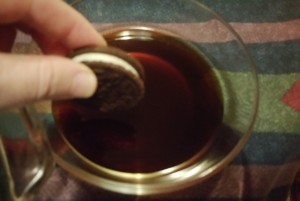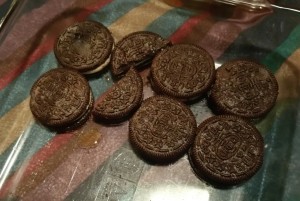 In a large mixing bowl, combine a three-fourths cup caramel ice cream topping and around 1/2 teaspoon coarse ground sea salt.  Add the salt to taste.  I'm not much of a salt lover, so I went a
little too light (only used about 1/4 teaspoon).   Will add more next time.
Then using an electric mixer, combine the caramel and salt with 12 ounces of softened cream cheese.  Okay, I just have to say, you could stop the dessert right there and it's already soooooo yummy!  Leave a little extra on the beaters so you get to lick it off.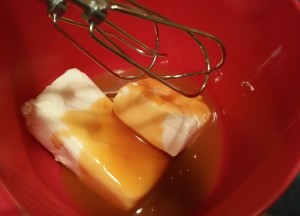 Fold in three cups of Cool Whip.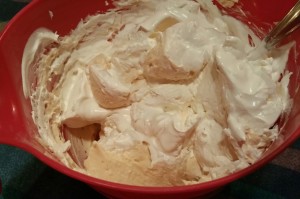 Pour half of the caramel cream mixture over the layer of Oreos.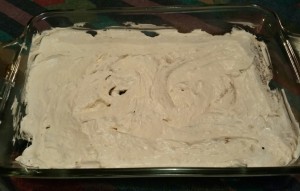 Top that with another layer of coffee-dipped Oreos and cover with the remaining caramel cream mixture.  Then spread one and a half cups of Cool Whip on top of that.  Oooo-wheee!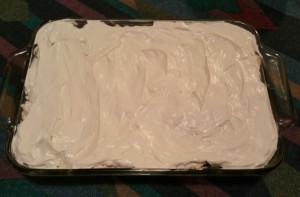 Refrigerate until set — I prepared it the day before the brunch.  Then, when you're ready to serve it, top with more Cool Whip if you like (I didn't) and drizzle chocolate and caramel syrups over the top.  And that's just what this is — an Over the Top dessert!!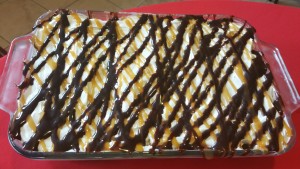 TIP:  I used plastic wrap around the edges of the baking dish when I drizzled the chocolate and caramel syrups over it.  Then I removed the plastic wrap, and my dish was ready to set on the serving table without a mess on the counter or the dish.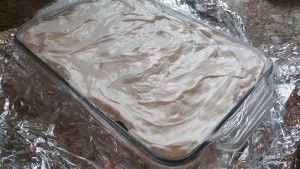 This recipe came from Jocelyn Brubaker's blog: www.insidebrucrewlife.com.   Check out her website for lots of amazing treats.  And I want to give a should out to Jocelyn because I posted a question about this recipe on her website, and she answered me the same day.  Wow!  Thanks, Jocelyn!
Jocelyn's recipe calls for an 8″x8″ dish, but I used a 9″x13″ dish and increased the recipe by half.  Mine served 18 women with just enough left over that I got to enjoy another serving that evening.
Printer-friendly recipe: