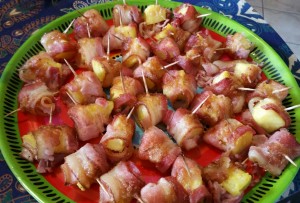 Most anything wrapped in bacon would probably be a hit, but these Bacon Wrapped Pineapple Treats are AMAZING!
If at all possible, you will want to use fresh pineapple.  The convenience of canned pineapple just isn't worth the difference in flavor and texture.  For those of you who've never cut up a pineapple
before, let me reassure you… it's very easy.  I had never done it before either.
Cutting a pineapple:
1.  Slice off the top and discard.
2.  Slice off the bottom to create a flat surface and discard
3.  Stand the pineapple upright and slice down each side, cutting off the spikes and leaving only the yellow flesh.
4.  Now slice down each side and discard the core.
5.  Cut the slices into 1″ chunks.
That's it.
To make the Bacon Wrapped Pineapple Treats:
Wrap each pineapple chunk in one-half slice of bacon, securing with a toothpick.  Place them side by side on a rack over a foil lined baking sheet.  (You can place them directly on the foil, but they cook more evenly and drain better on a rack.)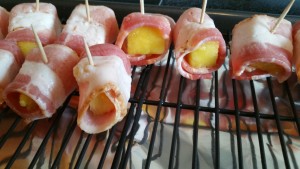 Top each treat with a pinch of brown sugar, and bake at 400 degrees for 20 minutes or so, until the bacon is crispy and browned nicely.  Serve immediately.
Oh so yummy!!