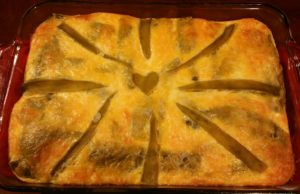 This Chile Relleno Casserole is delicious and so simple with only five ingredients.  Great for breakfast, brunch or any meal, and leftovers are yummy, too.
Ingredients:
1 lb shredded cheese (Mexican cheese blend or cheddar)
5 eggs
1½ cups milk
½ cup flour
8 oz can of whole green chiles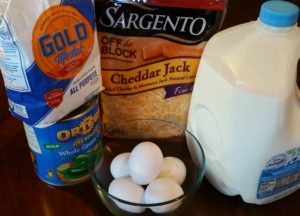 Preheat oven to 350 degrees.  Coat 9″x13″ baking dish with nonstick spray.
Whisk together eggs, milk and flour.
Slice chiles open and rinse away seeds.  Pat dry.  Arrange half the chiles to cover the bottom of the dish.

 Pour half of the egg mixture over the chiles.

Cover with cheese.

Repeat layers of chiles, then egg mixture, then cheese.
Cut a chili to create a design on top if you wish.
Bake about 50 minutes until toothpick inserted in the middle comes out clean.
Let rest for 5 minutes before cutting.
For a creamier dish, substitute half of the milk with cream.  You could also add any number of ingredients to this dish, such as bacon, red bell peppers, onions, etc.  This Chili Relleno Casserole has become a breakfast regular in my house.