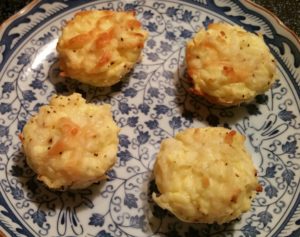 Quick, easy and oh-so-yummy!
Since there are NEVER left-over mashed potatoes in my house, I simply used a container of prepared mashed potatoes from the
grocery store.  2 cups of those, 3 eggs and 3/4 cup of shredded
parmesan cheese.  Stirred it together, plopped it into greased mini-muffin tins, topped with a little more cheese and baked at 400
degrees for 20 minutes.  OMG! So good!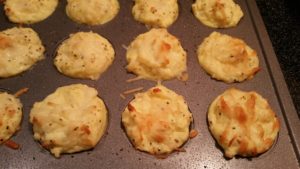 You could add spices, chives, bacon bits, ham, different cheeses or anything else that sounds good to you, but believe me, this simple version was delicious.
TIP:  Let rest 5 minutes and then run knife around the edges to
encourage them out of the muffin tin.