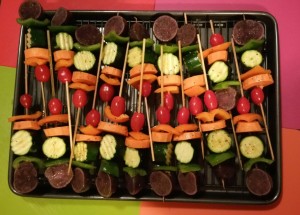 What a colorful way to serve roasted veggies.  Depending on what's in season, you can use cherry tomatoes… red, orange, yellow and green bell peppers… yellow and green zucchini… yellow and orange squash… red onions… purple potatoes… any veggie you like really.
When using wooden skewers, be sure to soak them in water a few hours or overnight so they don't burn in the oven or on the grill.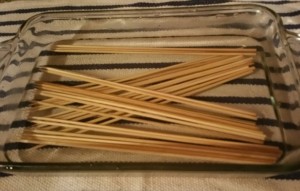 Cut vegetables into various sizes depending on how quickly they will cook (potatoes and butternut squash take longer to cook than bell peppers and zucchini).  Put the cut veggies into a plastic food storage bag, pour in olive oil and salt and pepper, seal and shake until evenly coated.  Then put the sealed veggies in the fridge for at least two hours (overnight is fine).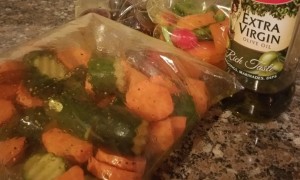 Arrange the veggies onto the skewers in colorful patterns.  Cook on a barbeque grill or bake in a 450 degree oven until tender and nicely browned.  They need careful monitoring because the time can vary so much depending on the combination of vegetables used.  As long as they don't burn, I think roasted veggies taste better the longer they are cooked, but that's my preference.  You may like yours crunchier.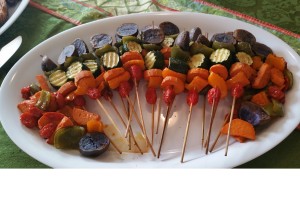 They taste best when served hot, but even cold roasted veggies are yummy.