Ummmm… bacon…
Man-oh-man! Easy and delish!  Only two ingredients (three or four if you add spices).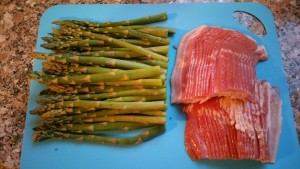 1.  Trim the tough ends off the asparagus.
2.  Cut bacon strips in half.
3.  Wrap half a bacon strip around each asparagus spear.  I had planned to secure with toothpicks but didn't have any and found that the bacon stuck just fine on its own.
4.  Sprinkle spices to taste.  I just use garlic.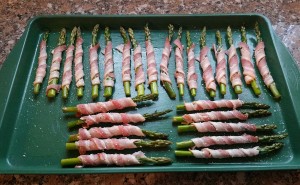 5.  Bake at 450 degrees for 15 to 20 minutes, until the bacon is done to your liking.  Simple as that.
Note:  By the time the bacon pleased me, the asparagus looked overcooked, but it was absolutely delicious and a big hit at my brunch.  My son suggested baking it at 350 for 15 minutes and then using the broiler for a minute or two to see if that helps crisp the bacon without overcooking the asparagus.  He's such a gem.  I'll try that next time.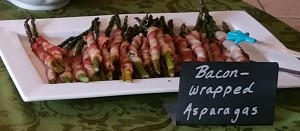 Printer-friendly recipe:  Bacon Wrapped Asparagus