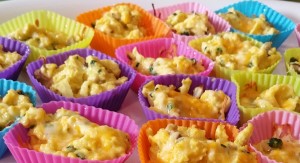 What do you get when you combine hash browns, scrambled eggs with veggies, shredded cheese and silicone baking cups?  A really yummy colorful brunch treat.
These silicone baking cups are wonderful.  Nothing sticks to them.  So easy to use and clean up, plus they come in such fun colors. (See Amazon link in side column.)
1.  Line each silicone cup with frozen shredded hash brown potatoes, pressing onto bottoms and up the sides.  Bake at 400 degrees for 15 to 20 minutes until light golden brown.  (Begin checking at 10 minutes if using thawed hash browns.)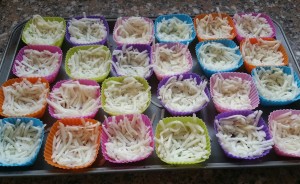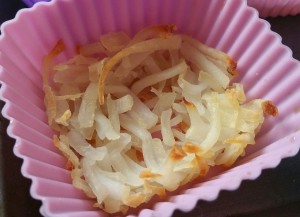 2.  Whisk together eggs, milk and salt.  For 24 silicone cups, I used 18 eggs, one-half cup of milk, and a pinch of salt.
3.   Sauté your vegetables in a little butter and/or olive oil.  I used spinach and mushrooms, but just chop up whatever vegetables you have on hand and toss them in.
4.  When vegetables are nearly done (tender and slightly browned), pour in egg mixture, cooking and stirring until eggs are thickened and almost dry.
5.  Spoon eggs and veggies into the hash brown cups and sprinkle with shredded cheese.
6.  Bake three to five minutes until cheese is melted.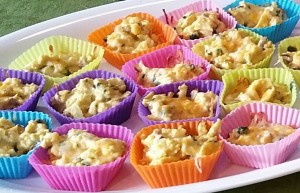 Printer-friendly recipe:  Scrambled Eggs in Hash Brown Cups