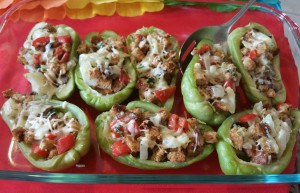 Such a special Mexican treat — Stuffed Chayotes.  Chayotes are Mexican squash, similar in size and shape to a large avocado, but very hard with a "seam" around the edges.  They make a wonderful shell for stuffing with all kinds of goodies.
This time I stuffed them with onion, red bell pepper, mushrooms, garlic, egg, bread crumbs, cilantro and cheese.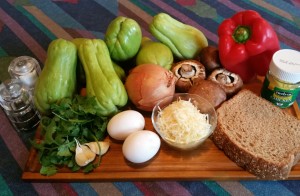 First slice the chayotes in half along the seam and remove the seed.  Cover with water and bring to a boil.  Reduce heat, cover and simmer for 12 to 15 minutes, until tender.  Then drain them on a towel.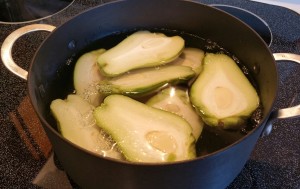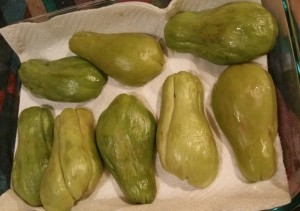 When cool enough to handle, scoop out the pulp leaving about a quarter inch of the shell all around.  Chop the pulp and let drain (or squeeze out excess moisture with towel).  Set shells in baking dish.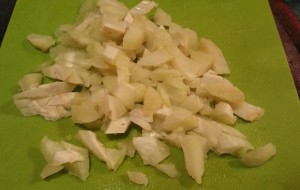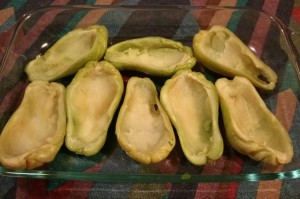 Toast bread and slice into cubes.  Chop pepper, onion and mushrooms, and mince some garlic.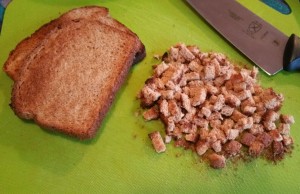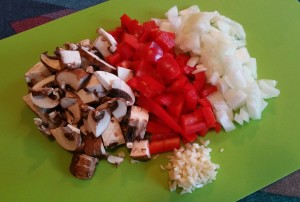 Sauté the peppers, onion, mushrooms and garlic in butter.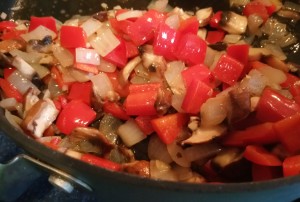 Then add the bread crumbs, chayote pulp, egg, cilantro, salt, pepper and a little chicken bouillon.  Combine well and spoon the mixture into the chayote shells.  Cover with cheese (I used parmesan cheese to save on the fat and calories, but a Mexican blend would also be yummy).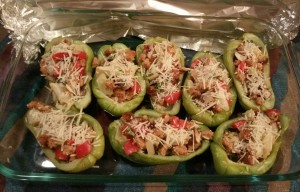 This recipe can be made ahead up to this point and refrigerated overnight.  Let stand at room temperature about 30 minutes before baking.
Cover with foil and bake at 350 degrees for about 25 minutes.   Uncover, add more cheese and bake an additional 3 to 5 minutes for the cheese to melt.
Then enjoy!!  These are best served hot, but I like them chilled the next day, too.
Print friendly recipe:  Stuffed Chayotes