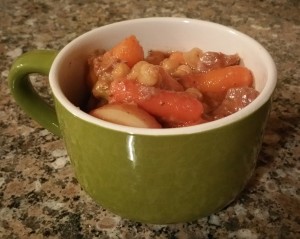 Nothing says "Ides of March" like a good lamb stew.   The secret to tender lamb is to sear the edges of the meat to seal in the juices and then cook at a very low temperature for hours.
You can add your favorite stew ingredients and seasonings.  I used lamb, but beef would be yummy, too.  Onions, carrots and potatoes are pretty standard, and I added garbanzo beans (chickpeas) for
additional protein and texture.  Tomatoes are not technically appropriate for an Ides of March stew since they weren't eaten in Caesar's day, but I chose flavor over authenticity.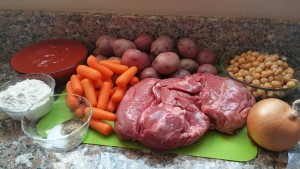 1.  Put 1/4 cup flour, 2 tablespoons pepper and 1 teaspoon salt in a plastic food storage bag.  Add 2 pounds lamb (cut into 1-inch
cubes) and coat the meat evenly with the flour mixture.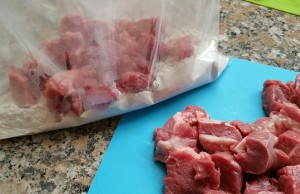 2.  Brown the meat over medium-high heat in 2 tablespoons of olive oil, turning to brown all sides, but do not cook through.  Depending on how much meat you are using and the size of your skillet, you will probably need to brown the meat in batches.  Use a slotted spoon to transfer the meat from the skillet to the crockpot.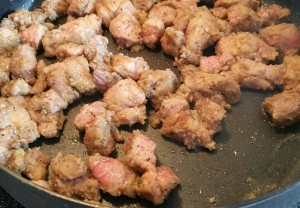 3.  Add one sliced onion to the skillet and sauté until golden brown, scraping up the remaining bits of lamb.  (I left several pieces of lamb in the skillet and cooked them through for my dinner.  Oh my! So delish!)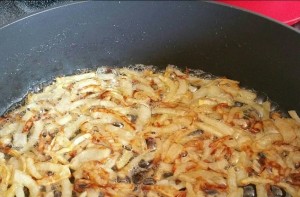 4.  Add the onions and the remaining ingredients to the crockpot:
2 cups carrots, 2 cups potatoes, 28oz can crushed tomatoes,
15oz can of garbanzo beans (drained) and 2 cups of water.  My crockpot was filled to capacity, so I only used 1 cup of water and it was fine.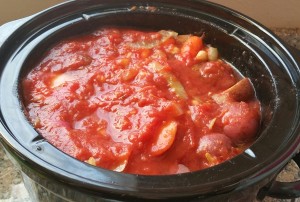 5.  Cover and cook on low for 8 to 10 hours.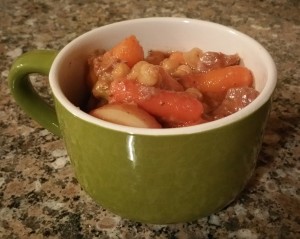 Printer-friendly recipe:  Slow Cooker Lamb Stew