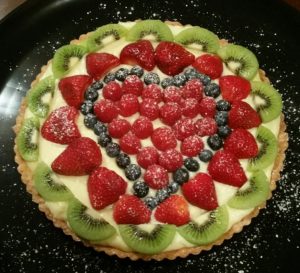 This Fabulous Fruit Tart looks and tastes anything but simple, yet it is so easy to make that it has become my new go-to dessert when company is coming.
If you're like me, the thought of pie crust that doesn't come out of a package is daunting.  But this is the simplest crust I have ever made, and it has a yummy, buttery cookie flavor.  I got the crust recipe from chowhound.com.
The filling is a light, sweet pastry cream like used in cream puffs, yet thanks to Thomas Joseph of Kitchen Conundrums on the Martha Stewart channel, I now know how simple it can be.  Below are my directions, but I recommend you watch his video:  http://www.marthastewart.com/1084932/no-fuss-pastry-cream
CRUST:
1 stick butter, melted
3 tablespoons granulated sugar
1/4 teaspoon fine salt
1 1/4 cups all-purpose flour
Stir together melted butter, sugar, and salt.  Add the flour and stir just until combined into a soft dough.

Put the dough in a

9-inch tart pan with a removable bottom. Press the dough evenly across the bottom and up the sides of the pan (I think fingers work best, but you could use a measuring cup).
Cover the tart shell with plastic wrap and chill in the refrigerator for 30 minutes.
Once chilled, use a fork to prick the bottom of the crust and bake at 350°F until golden brown, about 20 to 25 minutes.

Cool completely and fill with cream before removing from the pan.
PASTRY CREAM:
1/2 cup sugar
1/4 cup cornstarch
Pinch of salt
2 cups whole milk
4 large egg yolks
2 Tablespoons butter
1 teaspoon vanilla
MAKING THE TART:
Fresh fruit, sliced
Powdered sugar
Whisk the chilled pastry cream and pour it into the baked tart crust, spreading it smoothly to the edges.
Lay out fruit slices randomly or in a pattern.
Dust with powdered sugar.