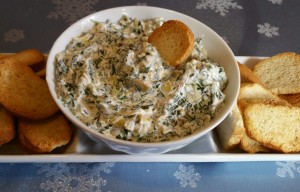 Quick, easy and tasty Hot Artichoke Spinach Dip
Ingredients:
1 cup thawed, chopped frozen spinach
1½ cups thawed, chopped frozen artichoke hearts
6 oz. cream cheese
¼ cup sour cream
¼ cup mayonnaise
¼ cup grated Parmesan cheese
½ teaspoon red pepper flakes
¼ teaspoon salt
¼ teaspoon garlic powder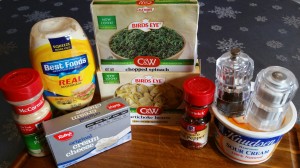 Tip:  I like to chop the artichokes while
they are halfway between frozen and
thawed — easiest to cut at that texture.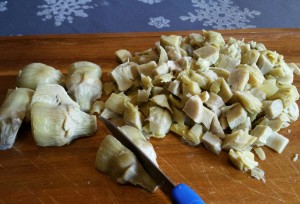 Directions:
 Boil spinach and artichokes in 1 cup of water until tender.  Drain.

2.  Heat cream cheese for 1 minute in microwave, just until hot and soft.
3.  Combine all ingredients and stir well.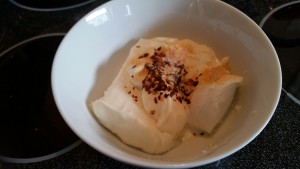 Serve hot, but it's yummy cold, too.